Fanapt® significantly improved overall schizophrenia symptoms as measured by PANSS1,2
Improvement in symptoms in a 4-week study2

In this study, Fanapt® (iloperidone) demonstrated similar efficacy to ziprasidone, which also required a slow titration to the target dose1
Study design: 4-week, placebo- and active-controlled trial (n=604) involved one fixed dose of Fanapt® (24 mg/day) compared to placebo- and an active-control (ziprasidone). The titration was similar to that of the 6-week study. Fanapt® was titrating at 1 mg twice daily on Day 1, and the dose was increased to 2, 4, 6, 8, 10, and 12 mg twice daily on Days 2, 3, 4, 5, 6, and 7, respectively. The primary endpoint was change from baseline on the PANSS total score at the end of treatment (Day 28) analyzed using mixed-effects model repeated measures (MMRM). Mean baseline scores were 92.88 for Fanapt® and 90.48 for placebo.1,3
PANSS-T = Positive and Negative Syndrome Scale total score.
Fanapt® significantly improved overall schizophrenia symptoms as measured by BPRS1,3
Improvement in symptoms in a 6-week study
3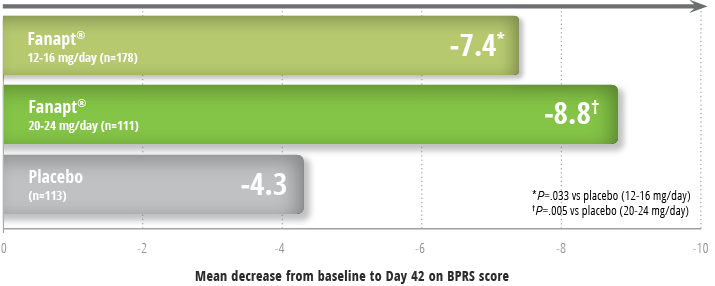 Study design: 6-week, placebo- and active-controlled trial (n=706) involving 2 flexible dose ranges of Fanapt® (12 to 16 mg/day or 20 to 24 mg/day) compared to placebo and an active-control (risperidone). Fanapt® was titrated to the respective dose over a period of 7 days. The primary endpoint was change from baseline on the BPRS total score at the end of treatment (Day 42).1
Patients taking Fanapt® at both high and low doses demonstrated significant reductions from baseline in BPRS score at Day 421:
The active-control antipsychotic drug (risperidone) appeared to be superior to Fanapt® in this trial within the first 2 weeks, a finding that may in part be explained by the more rapid titration that was possible for that drug. In patients in this study who remained on treatment for at least 2 weeks, iloperidone appeared to have had comparable efficacy to the active control (risperidone)
BPRS = Brief Psychiatric Rating Scale; LOCF = Last observation carried forward.
Fanapt® demonstrated efficacy with placebo-like rates of akathisia.1
Find out more
References: 1. Fanapt [package insert]. Washington, DC: Vanda Pharmaceuticals, Inc.: 2016. 2. Cutler AJ, Kalahi AH, Weiden PJ, Hamilton J, Wolfgang CD. Four-week, double-blind, placebo- and ziprasidone-controlled trial of iloperidone in patients with acute exacerbations of schizophrenia. J Clin Psychopharmacol. 2008;28(2 Suppl 1):S20-S28. 3. Data on File, Vanda Pharmaceuticals, Inc.